Laos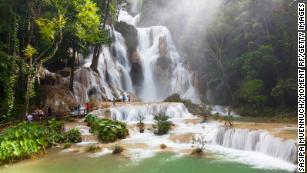 Three-tiered Kuang Si Falls is just south of UNESCO-listed Luang Prabang.
Sharing borders with Thailand, Cambodia, Vietnam, China and Myanmar, landlocked Laos has long been a must-hit spot for time-rich travelers making their way through the Southeast Asia circuit.
But now, thanks to the 2021 opening of a semi-high-speed railway, it's easier than ever to get around the country at a quicker pace, shaving hours off journeys that previously took full days to travel.
You're still going to have to make some hard choices — there's a lot to see in Laos.
Towering karst peaks await visitors to adventure-haven Vang Vieng, while UNESCO-listed Luang Prabang is filled with French-colonial heritage, Buddhist ritual and natural beauty. (Luxury seekers will want to check into the Rosewood Luang Prabang, with its stylish hilltop tents)
The mysterious Plain of Jars, a megalithic archaeological site, can be found in the Xiangkhoang Plateau. For a once-in-a-lifetime experience that makes a difference, head for Bokeo Province and join one of the Gibbon Experience's overnight treks. Guests of this tourism-based conservation project spend the night in the world's tallest treehouses — only accessible by zipline — among wild, black-crested gibbons. — KC
Source: CNN News